Welcome to The Way of The Spirit Ashton
Our Vision:
We are based in Ashton Nazarene Church, and our vision is to see ordinary people like ourselves becoming effective disciples of Jesus; people who know who they are, know who their God is, can see what God is doing in their world today and have the faith and courage to do what he asks of them.  Our vision is based on the following scriptures (from Ezekiel and John):
The man led me to the outer gate facing east, and the water was trickling out.  As he led me eastward he led me through water that was ankle deep, knee deep, waist deep until it was a river that I could not cross.  He asked me 'son of man do you see this?'  This river flows into the dead areas; the river is full of life and where it flows everything lives.  Fruit trees of all kinds grow on the banks of the river, their leaves will not wither nor will their fruit fail, because the water from the sanctuary flows to them.  Their fruit will serve for food and their leaves for healing.
Jesus said: 'Let anyone who is thirsty come to me and drink.  He who believes in me, out of him will flow rivers of living water'.
We are working as a team in Ashton Nazarene Church offering short courses and the modular certificate course.  We are also beginning to work in other Churches, and would be happy to meet with any groups of Christians or individuals who are hungry for more of the Word of God.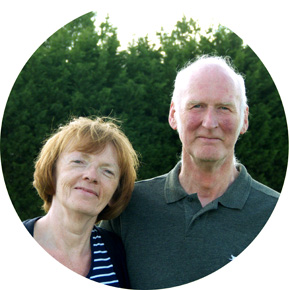 Leaders
Graham & Veronica Dawson
Teaching evenings are held at
Ashton Church of the Nazarene
230 Stamford Street,
Ashton-under-Lyne.
OL6 7LJ
Contact Graham and Veronica