5th March – Day 3
On day three we rose early to be at the college for 9am. We were to teach a class of seventeen MDiv students for two weeks, but also have the opportunity to address the whole college including faculty at the daily mid adorning chapel time, and take some evening meetings in week two, once Senti et al. had returned.
The class is full of charming young students mainly from Nagaland but also other parts of India and one from Myanmar. At first they weren't quite sure what to make of these two English guys but things soon warmed up and we had a great morning together. They were open, there was a good flow of life and they easily received the life of what we shared. We didn't get too close to John's gospel, the plan, but it didn't matter as it was crucial to lay the ground work first. There were a couple of times for ministry which they were very open to. Once the first student had stood the floodgates opened.
We have learned that snake, spider and other insects are sometimes on the menu for Naga's. Disappointingly (!?) we came in the wrong season to try them. The food is different to other parts of India we have been, a staple part of their diet being fermented bamboo, and even fermented soya bean. This, we are told, is an acquired taste. We'll let you know! There is also a dried pork dish (seasoned in many spices including chilli of course – chilli with everything and delicious), sticky rice (surprisingly enjoyable, cooked with salt and chicken stock) and various pickles and sauces, always home produced. There is a famous Nagaland chilli called here the king chilli, the second hottest known to man, we are yet to try that one.
Most names are unpronounceable, apart from the occasional Samuel or similar. Senti and Moa's children are called Mulang and Ozen, two of the less difficult to learn.
We have hot water and occasional Wi-Fi.  I have a rooftop verandah to sit out on once we return from the college, and that is where i am writing this, sitting in lovely warm sunshine, with a gentle breeze, not missing the current UK weather at all.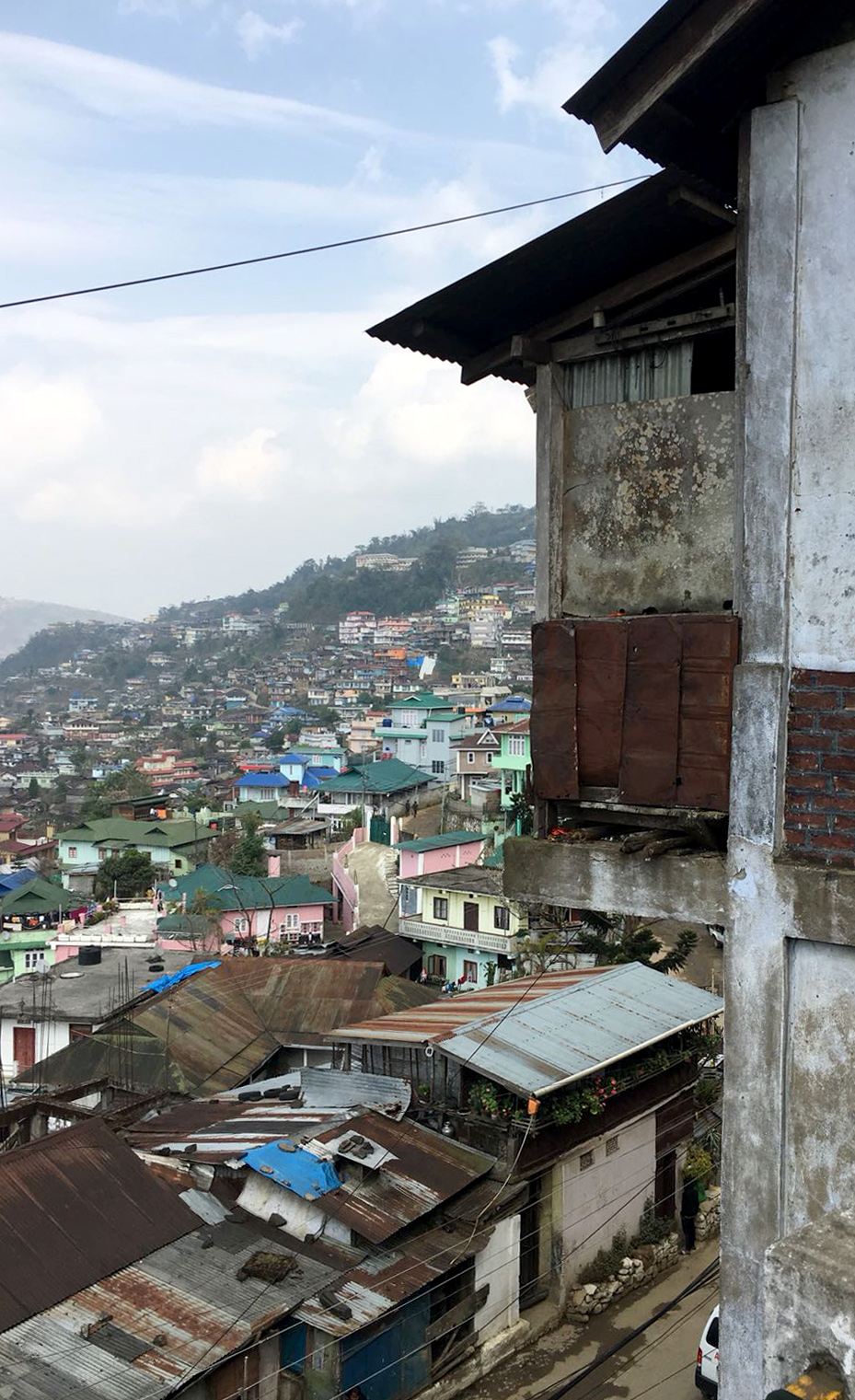 4th March – Day 2
Our second day was spent recovering from the long journey and acclimatising. Senti and several members of the family were off to southern India the following day for six days to attend her graduation in Bangalore. It was good to talk to them first though, and it has been very easy to quickly feel at home in their home. Tia, Senti's mother and Chuba Ao's Widow, is fascinating, exuding as she does faith and absolute confidence in God's goodness and faithfulness in answering her prayers, particularly of healing but also of any other need she presents before him. She accompanied Chuba on many of his travels, including to Roffey Place in the mid 1990's, and witnessed many wonderful miracles and deliverances. Jesus shines through her as he does in this whole family.
This land is steeped in revival, and with it persecution and rejection. Although officially Christian,  impacted as it was by the 19th century USA  Baptist church missionaries who saw the nation turn from tribal headhunters into lovers of Christ, and revived in the 1950's and at times since, the country is now only nominally Christian, revival fires having long dampened down into religious respectability. Today the Nagaland Bible College and revival church started by her father Chuba is the only trace of Pentecostalism in Mokokchung town. Elsewhere in Nagaland the lamp still burns though remains the minority among a strong Baptist presence.
Senti carries that longing for the things of God that run in her family line and which she herself witnessed as a child. Mayang, her brother, we remember from Roffey where he came in 2004. It is wonderful to see him again, and ministering in the college here playing a full part in the vision to see the church revived.