3rd March: Travelling to, and arriving at, Mokokchung
A longer and more gruelling journey than expected, we nevertheless finally arrived in Mokokchung in one piece and in good heart. Peter Callum and I enjoyed — or rather endured by the time we reached the last couple — six takeoffs and landings, and several hours in at least (Peter's route varied slightly) two different airports before finally arriving at Jorhat in Assam, a tiny, military airport still five hours drive away from Mokokchung.
Jorhat, Assam is a small provincial airport, quite the opposite end of the scale from Schipol, New Delhi and Calcutta, each bending over backwards to draw passengers into the inevitable gastronomic delights and consumer opportunities we have all come to expect at international airports. In contrast, this terminal building has one shabby doorway at the front attended by several unwelcoming and officious soldiers. The pilot had announced misleadingly that our baggage would await us on belt number two in the terminal building. When however we entered  through the aforementioned double doorway into the small unkempt arrivals hall it became apparent there could be no belt number two, as only one that could be seen and that one pretty much filled the hall. Our cases nevertheless appeared, which was something of a relief after poor communication from the lady at Norwich airport who didn't seem too confident about when and where we would see them again. Actually it was only a moment of (divine?) inspiration which caused us to look at the luggage belt on arriving in Delhi, there to discover our cases sitting next to belt number ten, mine now quite label-less. This was a surprise as we'd been led to believe it would go right through to our final destination. Our surprise was mixed with the stronger sense of relief and thankfulness at having found it at all and we were able to guide the cases hopefully onto the next domestic flight.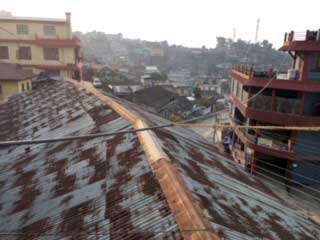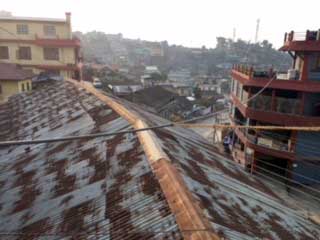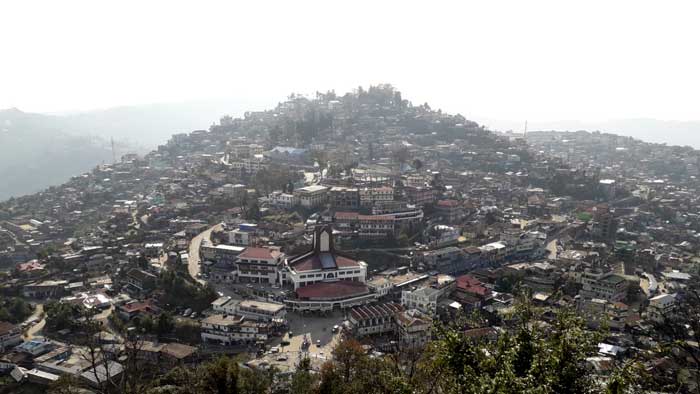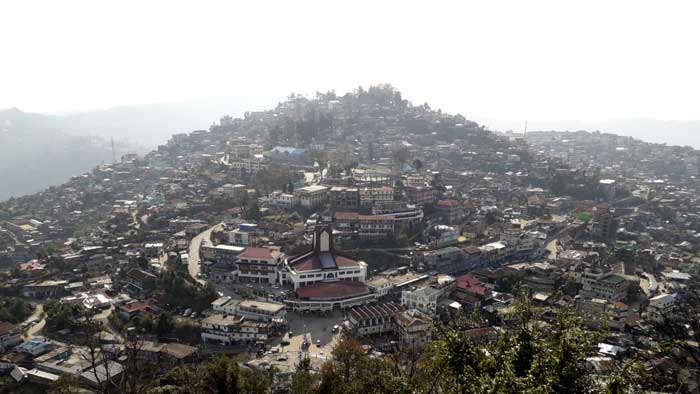 The journey to Mokokchung was memorable, long and tiring. Peter somehow managed to fall asleep, surprising with the bumpy road coupled with uncomfortable seats and frequent sharp bends. As we set off for that final leg we had now been travelling 26 hours. We were tired. (The journey reminded me so much of the road from Kigali to Cyangugu in Rwanda, which is another five hour trip on a long bendy road at the end of a not-quite-so-long-flight. The scenery was similar too, much greenery, occasional vistas to marvel at and with a sometimes quite an other-worldly atmosphere. Here was another trip that couldn't be booked through Thompsons: no coach loads of Japanese tourists jumping out to take photos, western villas or five star holiday homes.) We soon crossed the border from Assam and entered Nagaland.
Five hours or so later we arrived in Mokokchung. A town time forgot, in the middle of nowhere! At lease these were our first impressions. Senti and her family welcomed us warmly and we met Tia again, Chuba Ao's wife, 24 years after we had first met her at Roffey Place. The house we arrived to stay in is comfortable, clean, simple and with the familiar the warmth of a Christian family home.
We ate and then SLEPT for 14 hrs.